| | |
| --- | --- |
| | The Japanese Whisky Special |
---
Japanese Whisky - Some Historical Facts


At least there are two big whisky manufacturing companies in Japan:
Suntory and Nikka.




Suntory was established in 1899 by Shinjiro Torii (1879-1962) as a little store called "Torii Shoten" in Osaka. Later in 1921 the store changed into a whisky company called Kotobukiya Ltd. This company had produced the first Japanese single malt whisky made of genuine malts from Japan's first whisky distillery Yamazaki from 1923/1924 on. This whisky was released in 1929 into the markets and was called "Suntory Whisky Shirofuda", better known as "Suntory Whisky White Label". It is still available today. In 1963 the company was renamed from Kotobukiya Ltd. into Suntory Ltd. because of the great success of Suntory whiskies.


The stroy of Nikka is also the story of Masataka Taketsuru (1895-1979).
From 1923 to 1934 Masataka Taketsuru worked at Kotobukiya Ltd. as the distilling master. After he left Kotobukiya Ltd. in 1934 he established his own company Dainipponkaju Co. Ltd. and built his first whisky distillery called Yoichi. The first single malt from Nikka was the famous
"Nikka Yoichi Single Malt Whisky".
It was released into the market in 1940 and it is still available today. In 1952 the name of Dainipponkaju Co. Ltd. was changed into Nikka Whisky Distilling Co. Ltd. because of the great success of Nikka whiskies. Today Nikka is part of Asahi Breweries Ltd.
---
Japanese Whisky - Some Interesting Links
---
Japanese Whisky - Some Of My Own Miniature Bottles

Please click on the picture to see all my Japanese bottles with details.
Or just view my Japanese whisky bottles from Suntory, Nikka or Kirin.
Or browse my collection for miniature bottles imported to Japan.


---
Japanese Whisky - Some Special Bottles & Sets
Shinkansen - Odakyu "High Super Express" Class 10000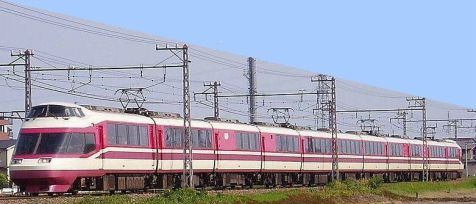 The Odakyu Railway serves an area in the southwest of Tokyo.
The High Super Express (class 10000 HiSE) eleven car trains
were introduced in 1987/1988 on the run from Tokyo's
Shinjuku station to Odawara and Hakone-Yumoto.
Two nice minibottles were released due to introduction in 1987/1988:


---
Japanese Whisky - Classification System
by courtesy of Mr. Kazuo Yoshida


1.Background
It used to be mandatory that all alcoholic drinks were classified as
"Class-Special","Class-1" or "Class-2"


by the Liquor Tax Law in Japan, until it was abolished in 1990.
(I am not very sure when this rule started because bottles produced in early 1970's
do not have this notation, so I suppose it started in late 1970's or beginning 1980's).
Tax was charged depending on this classification respectively, like "800 yen
for a Class-S bottle, 500 yen for a Class-1 bottle and 200 yen for a Class-2
bottle" etc. (the yen amont here is not real).
The classication was determined by the alcohol percentage, and "Class-S"
had higher percentage, while "Class-2" had the lowest. Typically, "Class-S"
whisky contained 43%, "Class-1" 40% and "Class-2" 39% of alcohol.

2.Classification Examples
For example I just picked up some from Suntory items:
Class-S: Suntory Royal and Suntory Special Reserve
Class-1: Suntory Rawhide
Class-2: Suntory Red
Several items sold over the "regulation change in 1990" have two types
of labels: one with the classification notation, and another without.
Please remember that this was the domestic taxation rule, and therefore this
classification was no way stated in English on labels, but only in Japanese.

3.Notation on Labels
Here I show what the notation on the labels looks like (in Japanese characters):
This law was of course applied to the imported liquors as well, so all
Scotches and Bourbons imported before 1990 have this notation on the
"Importer's Label", or sometimes on the main label.


"whisky" (no classification)
bottles with this notation were produced
after 1990 (or before mid 70's)
"whisky class-S"
bottles with this notation were produced
between mid 1970's and 1990
"whisky class-1"
bottles with this notation were produced
between mid 1970's and 1990
"whisky class-2"
bottles with this notation were produced
between mid 1970's and 1990
---